International Affairs
The International Webinar on "The use of ePortfolios in Health Professions Education"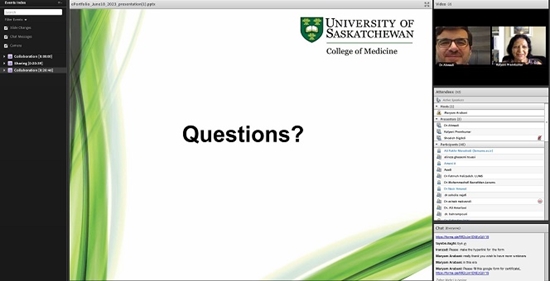 A specialized scientific webinar entitled "The use of ePortfolios in Health Professions Education" was held on June 18th, 2023, with the participation of more than 70 people.
Dr.Seyed Ahmad Ahmadi (Vice Chancellor for International Affairs), Professor Shoaleh Bigdeli (Medical Education Specialist), Professor Kalyani Premkumar (Professor in the Department of Community Health & Epidemiology) presented the latest educational technologies in the field of medical science education in this event for the participants.
An ePortfolio is not just a documentation tool, but also a powerful learning tool that promotes reflection and integration of academic and non-academic experiences. In this session, we will explore the many ways that ePortfolios can be utilized throughout the medical education continuum. Attendees will learn how to use ePortfolios to assess academic work, facilitate reflection, and connect topics across courses and assignments.